If you're curious about the secret behind meaningful tattoos, just ask David Beckham! He's got dozens of tattoos scattered across his body and claims that he doesn't regret a single one of them. The 38-year-old soccer star, who has relocated back to the UK with his family, recently told CNN in an interview, "I have 32 [tattoos] and I don't regret any of them. They all have a meaning. I think that's what's important about tattoos, if they have a meaning you'll never regret them." It's all well and good that David doesn't regret the tattoos he already has, but we're dying to know when he is going to get inked again?? It's been almost two years since he got the "Harper" tat inked on his chest and we think it's about time he hit the tattoo parlor again!
Beckham's Most Important Tats Involve His Kids
David Beckham has a whopping 32 tattoos, and, according to the model and soccer star, his favorite pieces are the ones dedicated to his three sons – Brooklyn, Romeo and Cruz – and his one-year-old daughter, Harper. On his back, David Beckham sports a huge guardian angel tattoo, with the names of his boys inked above and below the angel. On his chest, the loving father also has an image of Jesus being lifted up by three cherubs, which represent his sons. Just above that tat, near his neck, David has an elegant tattoo that reads "Harper," his daughter's name, in script. In addition to tattoos honoring his children, David Beckham also has quite a few tats as tributes to his wife, singer-turned-fashion-designer Victoria Beckham, and she has some family-related tattoos of her own.
New Tattoos for David Beckham?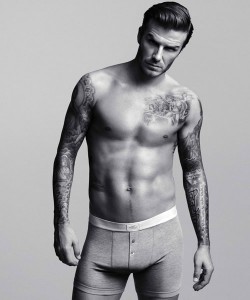 Following a March 2013 soccer match in Paris, David Beckham removed his shirt (wowza!) and revealed a bandage on his lower back, which sparked rumors that he may have gotten a new tattoo. We've been keeping an eagle eye out since then to see if we can catch a glimpse of a new David Beckham tattoo, but alas, no luck. Some people did freak out a bit when the model pulled up his shirt during a five-day trip to China in March to reveal the Chinese proverb inked on his ribcage, but true David Beckham fans know that the side tattoo isn't new. In fact, it was inked back in 2008, and translates to "Death and life have determined appointments. Riches and honor depend upon heaven." Stay tuned and we'll keep you updated on new David Beckham tattoos in the future!