Not only has Victoria Beckham pledged her heart to her husband, but she has devoted her wrists to him as well! Victoria Beckham has several wrist tattoos, many of which commemorate her love for her husband, David Beckham, or special milestones in their marriage. Victoria Beckhams wrist tattoos aren't her only tats though; she has also inked up her back and neck with tattoo tributes to her husband and children, including three stars on her back that represent sons Brooklyn, Romeo and Cruz. It's pretty obvious that Victoria Beckham loves her family, but a tattoo in honor of only daughter Harper has been noticeably absent since the baby girl's birth in July 2011. Could Victoria Beckham be working up to a new wrist tattoo to celebrate the birth of the baby girl she's always wanted? Check back with us and we will keep you updated on all Victoria Beckhams tattoos.
Although Victoria was reportedly furious when David Beckham got his cherub arm tattoo in 2008 (probably because he already had over a dozen tats at that point), Victoria Beckham seems to have no problem going "tat for tat" with her husband under certain circumstances. In fact, several of Victoria Beckhams wrist tattoos match tattoos that David Beckham also has inked on his body, some of which are in the exact same place. And the couple even shares the same tattoo artist – Manchester-based Louis Malloy. If Victoria Beckham tries to keep up with her husband's tattoo addiction, we may see many more Victoria Beckham tattoos in the not-too-distant future! Check out all of Victoria Beckham's wrist tattoos below.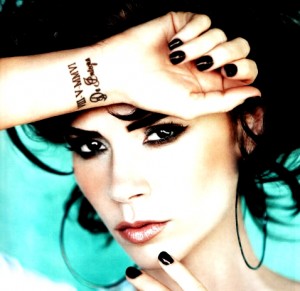 Roman Numeral Tattoo
On her right wrist, Victoria Beckham has a Roman numeral tattoo that reads "VIII-V-MMVI," or May 8, 2006. Victoria Beckham's wrist tattoo with Roman numerals represents the date Victoria and David renewed their wedding vows, and matches the Roman numeral tat David also has inked on his right wrist. David and Victoria renewed their wedding vows in a secret ceremony in front of only a few friends and family at Buckingham Palace in 2006, and Victoria apparently had no idea it was planned until the day of. The vow renewal was a very toned-down ceremony compared to the couple's wedding, which involved an Irish castle and individual thrones for the couple to sit on. Victoria Beckhams wrist tattoo was inked in 2006, and it seems like other celebrities liked the look enough that they decided to follow suit. Two years later, Rihanna got a similar Roman numeral tattoo inked on her shoulder as a tribute to best friend, Melissa Forde.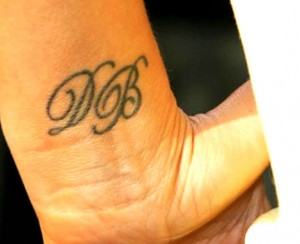 David Beckham Initials Tattoo
Victoria Beckham has a tattoo on her left wrist of husband David Beckham's initials, "DB," inked in an elegant scrolling script. Victoria Beckham certainly isn't the only female celebrity to get tattooed, but she does seem to get tattoos that match her "posh" persona – classy and feminine – without seeming the least bit trashy. Even though Victoria Beckham's wrist tattoos are very visible to the public, the fact that each one is a tribute to her loving husband kinda makes that okay, right?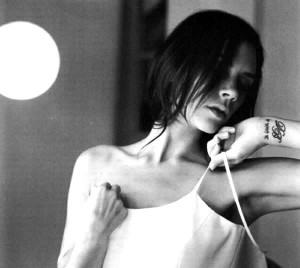 Hebrew Phrase Tattoo
To celebrate her 10th wedding anniversary with soccer star David Beckham, Victoria Beckham got another Hebrew tattoo, this time inked on her left wrist, right below her tattoo of David's initials. Victoria Beckhams wrist tattoo translates to "Together, forever, eternally," which seems like a nice tribute to ten years of marriage. The infamous British super-couple celebrated their 10th anniversary on July 4 in the Maldives, and Victoria Beckham chose her guest appearance on American Idol in August 2009 to show off her wrist tattoo, which is apparently inspired by David Beckham's ties to Judaism. Even though Victoria is reportedly not too happy about all of his tattoos, David Beckham also got a tattoo in honor of the couple's 10th wedding anniversary. David Beckhams tattoo however, came in the form of ten roses inked around his left arm, near his elbow.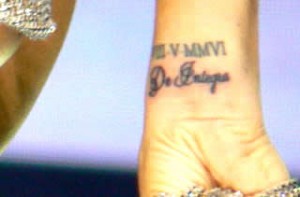 Latin Phrase Tattoo
Underneath her Roman numeral tattoo Victoria Beckham has a Latin phrase inked on her wrist that reads "De Integro," which the former Spice Girl unveiled during the launch of her new denim line in Boston in 2008. Victoria Beckham's wrist tattoo translates to "again from the start," and is believed to mark her fresh start with her husband and family in the United States. The Beckhams moved to the U.S. in 2007 when David finished his last season with Real Madrid and signed a multi-million dollar, five-year deal with MLS to play for the L.A. Galaxy. Victoria Beckhams wrist tattoo seems like a positive outlook on the big move, and came shortly after her husband got a risque tattoo of her sporting lingerie in 2007.