Forget carrying around photographs in your wallet or wearing a necklace as a tribute to your kids; getting a "mommy tattoo" – a tattoo that mothers get in honor of their children – is the new coolest way to give a shout out to your kids, one that has been perpetuated by female celebrities in recent years. Today, tons of proud mommy stars, from Julia Roberts to Angelina Jolie and Victoria Beckham, have tattoos inked on their bodies that allow them to keep a reminder of their children with them forever, long after a photograph fades and a necklace gets lost. One of the most famous celebrity couples who have devoted lots of space on their bodies for children-inspired tattoos are David and Victoria Beckham, the super-couple from Britain that has recently taken the U.S. by storm. While David has gone above and beyond to show his love for his four kids, Victoria has kept it simple and very "Posh Spice." Check out Victoria Beckhams tattoo on her back to see her low-key, classy tribute to Brooklyn, Romeo and Cruz.
Based on how she is represented in the media, Victoria Beckham, a.k.a Posh Spice, hardly seems like the kind of person to tone anything down. (The couple sat on matching golden thrones at their wedding for God's sake.) So when it comes to tattoos, you might expect Victoria Beckham to have, who knows, a huge portrait of David Beckham inked on her back or something. In reality though, Victoria Beckhams tattoos are actually quite tasteful and truly represent how much she loves her family. In fact, there isn't a single tattoo on her body that wasn't inked in honor of her husband and/or children. Now that's devotion. Read on to learn more about Victoria Beckhams back tattoo and how she got it altered when her family started growing.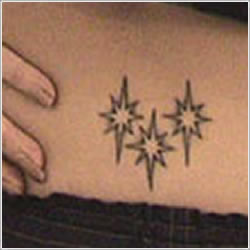 Stars Tattoo
Victoria Beckham has a tattoo on her lower back that features five stars – one for her, one for her husband, and one for each of the couple's three boys, Brooklyn, Romeo and Cruz. The stars in Victoria Beckham's tattoo look like twinkling eight-pointed stars outlined in black. Three of the stars form vertical line down Victoria Beckham's spine, and then there is a star on the left and right of that line. When Victoria Beckhams back tattoo first showed up in pictures though, it only consisted of three stars that formed a horseshoe pattern. The stars in Victoria Beckham's back tattoo represented David, their first son Brooklyn, and herself. It wasn't until their other sons Romeo and Cruz were born that Victoria altered her back tat to include the newest additions to the family.

It's cute that Victoria Beckhams back tattoo is a tribute to her sons, and David Beckham also has tats inked on his back that commemorate the birth of Brooklyn, Romeo and Cruz. What about poor little Harper though? When the Beckhams' first daughter was born in July 2011, David got the baby girl's name scrawled across the left side of his chest, above his chest tattoo with Jesus and cherubs. After the couple gave birth to three boys, Victoria said she planned to get a tattoo on her inner thigh that represented fertility, hoping that the tat would improve her chances of giving birth to the baby girl she always wanted. Since Harper's birth nearly a year ago though, a tribute to the little girl has been noticeably absent among Victoria Beckhams tattoos. Could this mean a new Victoria Beckham tattoo in the future? We sure hope so!