David Beckham has lots of tattoos covering his body, most of which are inked on his left and right arms. Rumor has it that almost all of David Beckham's tattoos have been inked by longtime tattoo artist Louis Malloy, who has been inking tats on people for more than 24 years. According to Malloy, he didn't ink David Beckham's first tattoo, which was the "Brooklyn" tat on his back, so he was "very honored" when Beckham commissioned him to ink his many tattoos since. (That means Beckham does have Malloy to thank for the misspelled "Victoria" tattoo). Besides that very public slip-up though, David Beckhams tattoos have been admired for their design and meaning by fans of the soccer star, his sleeve tattoos in particular.
It's obvious that David Beckham loves tattoos, and each of the numerous tats on the soccer star's arms is a critical part of David Beckham's sleeve tattoos and represents an important part of his life. In his memoirs, titled "Both Feet on the Ground," David Beckham said of his tattoos, "They're about the important people in my life, my wife and sons, who I want to have with me always." Beckham continues, "When you see me, you see the tattoos. You see an expression of how I feel about Victoria and the boys. They're part of me." David Beckhams arm tattoos are some of his most impressive, so read on to learn more about his sexy (and sometimes controversial) sleeve tattoos and all of David Beckham's tattoo meanings.
David's "7" and Roses Finger Tattoos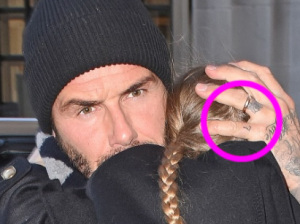 In February 2016, during an unannounced visit to New York City to surprise Victoria during her fashion week show, David Beckham inadvertently revealed two new tattoos on his fingers. One tattoo, inked on his left-hand pinky finger, features a simple number "7" inked in black, an obvious double-duty tribute to Harper Seven Beckham and David's number 7 jersey from when he played for both England and Manchester United. David's second hand tattoo is inked on his left-hand ring finger, just below his wedding band, and features what looks like a small roses design likely meant as a tribute to Victoria.
Tiny Black "99" Tat on His Pinkie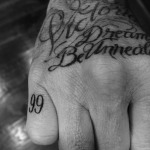 On July 22, 2015, David Beckham took to Instagram to show off a brand-new "99" tattoo on the top of his finger. David's tattoo features the number "99" inked in a simple black font on the pinkie finger of his right hand, and symbolizes what David says "was a good year for me." It was in 1999 that David tied the knot with his wife of 16 years, Victoria, and that same year, David also helped Manchester United to a European Treble, winning the Premier League, FA Cup and UEFA Champions League in a single season. Now that his kids are growing up and he has retired from football, it appears that David Beckham may be feeling a bit sentimental!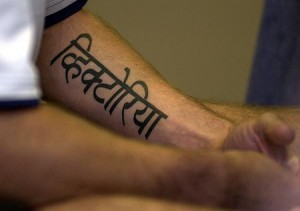 "Victoria" Sanskrit Tattoo
In 2000, David Beckham decided to make a public declaration of his love for his wife, Victoria Beckham, by getting her name inked on the inside of his left arm. David Beckhams forearm tattoo was inked in Sanskrit and was meant to read simply "Victoria." Unfortunately, as we know from other celebrity tattoo mistakes, such as pop star Rihanna's hip tattoo, Sanskrit tats don't always translate properly. Instead of saying his wife's name, David Beckham's tattoo meaning actually translates to "Vihctoria." Rihanna's Sanskrit tattoo was meant to read "forgiveness, honesty, suppression and control," but instead translates to "long suffering, truthfulness, self-restraint, inward calm, fear and fearlessness."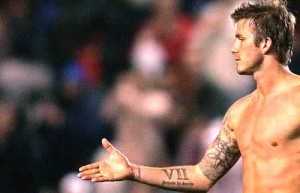 Roman Numerals Tattoo
Another one of David Beckhams tattoos on his forearm features a large Roman numeral seven, which is inked on the inside of his right arm. The number seven is significant to Beckham because it represents his jersey number for both Manchester United and England. Oh, and it's also the middle name of David and Victoria Beckham's fourth child, Harper Seven Beckham. David Beckham's forearm tattoo was inked in 2003, and since Harper wasn't born until 2011, we're guessing both the tat and his little girl's middle name were inspired by his jersey number.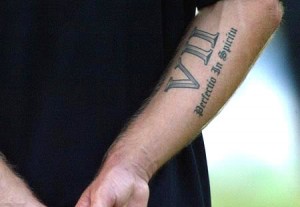 Latin Phrase Tattoos
The same year that Beckham's arm tattoo featuring the Roman numeral seven showed up in pictures, David Beckham was also seen sporting a new forearm tattoo inked on the inside of both his right and left arms. On his left arm, David Beckhams tattoo reads "Ut Amem Et Foveam" in Latin, which translates to "So That I Love and Cherish." This tat is inked directly below David Beckham's "Victoria" tattoo (or more accurately, his "Vihctoria" tattoo). The rest of the Latin tat is inked on Beckham's right arm, reading "Perfectio in Spiritu," or "Spiritual Perfection."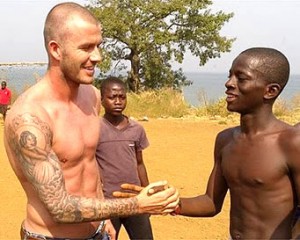 Large Angel Tattoo
2004 was a tough year for David Beckham, as allegations of his affair with model and personal assistant Rebecca Loos threatened his marriage to Victoria. About a month after the alleged affair became public, David Beckham got a new tattoo inked on his upper right arm, featuring a large angel with the saying "In the Face of Adversity." David Beckhams arm tattoo was clearly an indication the problems he was facing in his life, as Beckham was quoted saying, "Everybody's got a way of expressing their feelings, and mine is through my tattoos."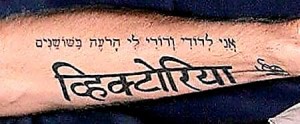 "I Am My Beloved" Hebrew Tattoo
On David and Victoria Beckham's 6th wedding anniversary, the couple got matching Hebrew tattoos. While Victoria's Hebrew tattoo is inked in a line running down her neck and back, David Beckham's Hebrew tattoo is inked on his left arm, just above the "Victoria" Sanskrit tat. The couples' matching tattoos translate to "I am my beloved's and my beloved is mine," which clearly demonstrates their love for one another. It seems like the soccer star has reserved his left arm for his wife, as most of David Beckhams tattoos on his left arm are tributes to Victoria. It's a good thing he saved that space for her already, because he's sure to run out of tattoo room on his body before too long!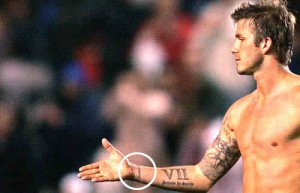 Anniversary Roman Numerals Tattoo
When asked about the alleged four-month affair between her husband and Rebecca Loos, Victoria Beckham said it only made their marriage stronger. Obviously, the couple has gotten through that difficult time, illustrated by the tattoo David Beckham got on his wrist in 2006. Inked on his right wrist in Roman numerals, David Beckhams tattoo reads VIII.V.MMVI, which represents May 8, 2006, the date David and Victoria took part in a secret commitment ceremony.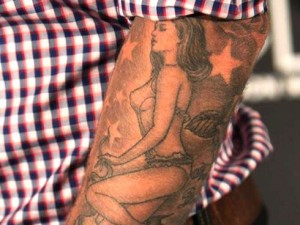 Sexy Victoria Tattoo
Apparently David Beckham's Sanskrit and anniversary tattoos weren't enough, because David Beckham got another tattoo in tribute to his wife in 2007. This time, Beckham had a six-inch tat of a lingerie-clad Victoria inked on his left arm, a recreation of his favorite Brigitte Bardot-style photo that the former Posh Spice did for "Pop" magazine. David Beckhams sleeve tattoo seems innocent enough, but the five-year old tat has recently drawn criticism from officials in UK schools who believe the tattoo is "inappropriate." Apparently, David Beckham's Victoria tattoo has been featured on a flyer distributed by a UK supermarket chain to 47,000 schools and community groups, who have taken issue with the "provocative" tattoo. Shortly after decorating his arm with a sexy Victoria tattoo in 2007, David Beckham had "Forever By Your Side" inked beneath the tat, accompanied by a star.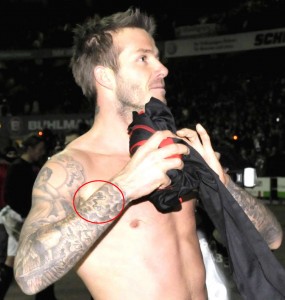 "Pray for Me" Tattoo
Also in 2007, Beckham had the words "Pray for Me" inked on the outside of his right wrist, amongst the clouds and other images that make up David Beckhams sleeve tattoo. Apparently David Beckham's arm tattoo was inspired by his conflicted move from Manchester United to L.A. Galaxy, and was inked along with another "symbolic" piece, both of which reflect the "deep turmoil he feels about going to L.A." The second part of David Beckham's sleeve tattoo features a Knight Templar, symbolized by a cross. The Templar Knights are recognizable by their white mantle with distinct red cross, and David Beckham's tattoo meaning is believed to represent he and his England team.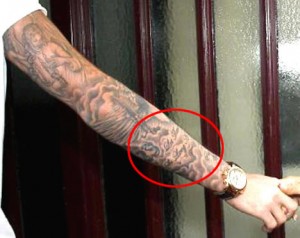 "Let Them Hate" Angel Tattoo
Another part of David Beckhams sleeve tattoo on his right arm features a large guardian angel holding a flame in her hand and spreading her wings out to merge with Beckham's other arm tattoos. Below the angel tattoo are the words "Let Them Hate as Long as They Fear," which was apparently inspired by a quote by the Roman Emporer Tiberius and which was also used by Caligula. According to rumors, David Beckham wanted to get the quote inked in Latin, but he opted for English instead because one of the words in Latin would have read "dum.s" Apparently, Beckham was adamant that the tat be written in English because he wanted to avoid potential jabs at his own intellect spurred by this word. This David Beckham tattoo was also inked in 2007.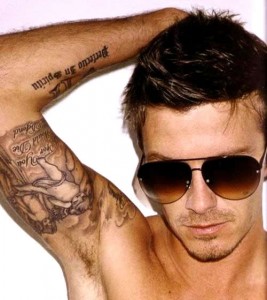 Cherub and Hebrew Tattoos
At some point in the past few years, David Beckham got a couple of cherubs inked on the inside of his right bicep to represent his boys, Brooklyn and Romeo. In December 2008, David Beckham got a tattoo on his left arm that features another cherub (presumably for his third son, Cruz), accompanied by the Hebrew saying, "My son, do not forget my teaching but keep my commands in your heart." That same year, David Beckham also began to color in the gaps in his left sleeve tattoo to match his right.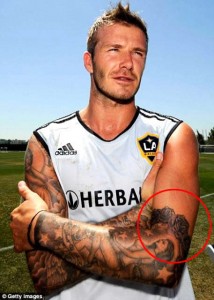 Roses Tattoo
In another tribute to his loving wife, David Beckham got a ring of roses inked around his left arm, near his elbow. Located directly above his sexy Victoria tat, David Beckhams arm tattoo includes ten roses to mark the couple's tenth wedding anniversary. David Beckham's roses tattoo was inked in July 2009 and was first seen in pictures of his return to the field for the first time for L.A. Galaxy, following his loan to AC Milan. David Beckham is clearly very devoted to his wife and has consistently portrayed his love for Victoria through his many pieces of body art. David Beckham's arm tattoo came after the happy couple celebrated their 10-year anniversary on July 4, with a luxurious trip to a private island in the Seychelles. Beckham plans to add several more tats to his right and left arms in order to complete a pair of tattoo sleeves.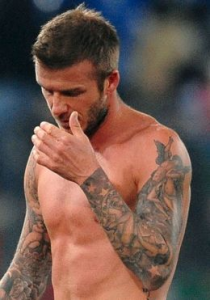 Cupid and Psyche Tattoo
After the completion of a match in Rome, Italy in March 2010, a new David Beckham tattoo was spotted on the soccer star's left arm, near his shoulder. David Beckham's sleeve tattoo features a Renaissance image of Cupid carrying his wife, Psyche, up to heaven. The only alteration in David Beckham's tattoo made over the original image was a scarf draped over Psyche, covering her otherwise-bare body. Cupid is the god of love, and David Beckhams tattoo is based on a painting done by 15th century artist Francesco Francia.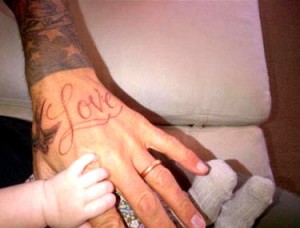 Love and Swallows Tattoo
One of David Beckham's most recent tattoos is inked on his left hand and includes the word "Love" written in script with the image of a swallow beside it. This tat was inked in 2011, and David Beckham's tattoo meaning represents a symbol of family love and loyalty. Apparently the newest addition to the Beckham family, daughter Harper Seven, approves of David Beckham's tattoo, as she posed in the picture Victoria posted on Twitter gripping her dad's tattooed hand. Victoria accompanied the picture of David Beckham's tattoo with the tweet, "Harper loves Daddy's new tattoo of love. X VB." The swallow is a popular tattoo design that dates back to sailors who used the tats to represent how far they had traveled. In Beckham's case, the swallow tattoo represents the love and devotion he has towards his family.
"Victoria" and Swallow Tattoo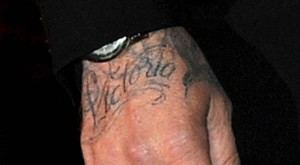 On September 16, 2013, David Beckham revealed another hand tattoo while attending the Global Fund and British Fashion Council Party as part of London Fashion Week. The new addition to David's tattoo collection is almost identical to the "Love" tat he has inked on his left hand, but features his wife's name "Victoria" inked on his right hand in an elegant script font, along with an image of a swallow beside it. David Beckham's tattoo was inked less than two weeks after the British model and soccer star debuted a large new tattoo on his chest, which he presumably got inked with the tattoo voucher Victoria gave him for his 38th birthday. Shortly before revealing the hand tattoo, David hinted that he was planning on getting a romantic anniversary tat to celebrate the couple's 14 years of marriage. How cute is that?!