Thirteen years after David Beckham got his first tattoo, and the soccer phenom is still going strong. With dozens of tattoos covering his body already, David Beckham shows no signs of slowing down…especially if he and Victoria keep having kids! David Beckham's most recent tattoos are inked on his chest; the first of which coincides with what appears to be Beckham's obsession with Jesus, crosses, angels, cherubs, and everything religious. David Beckham's second chest tattoo was simply the act of a proud father. Read on to learn more about David Beckhams chest tattoos.
By 2011, David Beckham had just about run out of room on his arms and back, but there was no stopping him at that point. So, he simply moved onto his chest. David Beckhams chest tattoos include an ornate representation of Jesus shown with three cherubs and a simple name dedication to baby Harper. If we know Beckham though, this won't be the end of David Beckham's tattoos on his chest. Since the couple plans to have at least one more child (so they can have a five-side "Team Beckham"), maybe Beckham will save the right pec for that lucky boy or girl.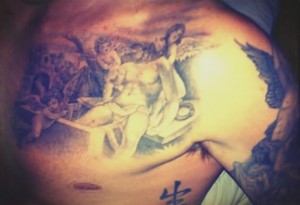 Jesus and Cherubs Tattoo
In early 2011, David Beckham had a large tattoo inked on his upper left chest that included a portrait of Jesus (designed to look like Beckham himself) being lifted from his tomb by three cherubs, or baby angels. "It's Jesus being carried by three cherubs and obviously the cherubs are my boys and so my thought of it is that at some point my boys are going to need to look after me and that's what they're doing in the picture. It means a lot." Branching out from the tattoo artist that inked almost all of David Beckham's tattoos, Louis Malloy, David commissioned celebrity tattoo artist Mark Mahoney to tattoo his chest piece.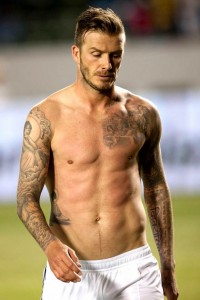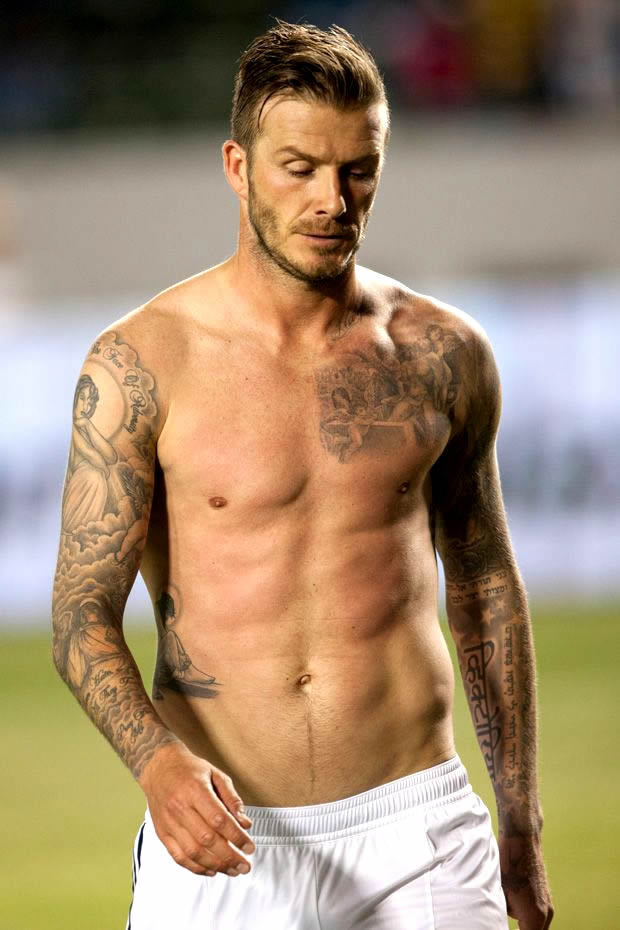 Mahoney has worked on a long list of celebrities, including Angelina Jolie, Brad Pitt, Johnny Depp, and most recently inked Rihanna's "thug life" tattoo across her fingers.
Mark Mahoney works in West Hollywood at the Shamrock Social Club, where Beckham got his Jesus and cherubs tattoo done. Beckham said, "I had it done three months ago, before I left L.A. I don't plan on having a tattoo, but just sometimes I wake up with an idea or an image of what I would like on me." David Beckham's chest tattoo took a total of 12 hours (ouch!) and, according to Beckham, is a tribute to sons Brooklyn, 12, Romeo, eight, and Cruz, six. "It's my way of expressing the way I'm feeling. Most of my tattoos are memories or things that mean a lot to me," he said.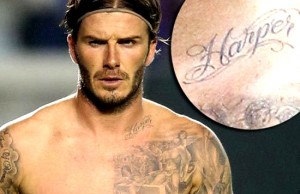 Harper Tattoo
With the birth of his baby girl on July 10, David Beckham couldn't turn down the opportunity to get another tattoo in honor of the newest addition to the Beckham clan, Harper Seven. In July 2011, David Beckham added a simple "Harper" tat above the intricate Jesus and cherubs tattoo he had inked just months prior to her birth. David Beckham's chest tattoo reading Harper is much more elegant than the boys' names that are inked on the soccer star's back, written in a feminine scrolling script rather than the bold and masculine Gothic text. David Beckhams tattoo in honor of his little girl is inked right at the base of his neck, just above his heart. David Beckham's chest tattoo was finally unveiled in August 2011 after L.A. Galaxy's win over FC Dallas.