When it comes to David Beckhams tattoos, you thought he could do no wrong, right? After all, David Beckham is known as much for his fashion sense and his tattoo collection as he is for his skills on the soccer field, and most of the attention has been positive. Fans of David Beckham adore the soccer star's tribute tattoos to sons Brooklyn, Romeo and Cruz, for example, as well as his new chest tat for baby Harper. And despite the minor snafu associated with Beckham's misspelled "Victoria" arm tat, David Beckham's sleeve tattoos and other body tats have also garnered positive attention from the media. David Beckhams neck tattoo, however…not so much.
Neck tattoos are common among women with long hair who can cover up the tat if they want to. For guys like Beckham though, you better be sure you love your neck tat, because it's going to be seen every time you step out of the house. David Beckham's neck tattoo was one of the first pieces of art the soccer star got inked on his body (and he's gotten over a dozen more since), but it's one that both fans and foes will have fresh on their minds every time they see Beckham…from behind, that is.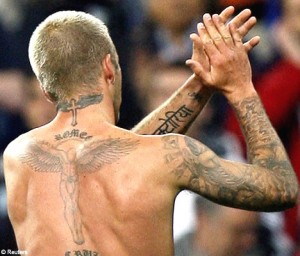 Winged Cross Tattoo
In the midst of the 2004 UEFA Championships, David Beckham decided that he needed a new tattoo…immediately. So what did he do? He had the Manchester-based celebrity tattoo artist Louis Malloy, who has inked most of David Beckham's tattoos, flown in to Madrid to ink his neck tattoo. David Beckhams neck tattoo features a four-by-six-inch, Gothic-style outline of a cross accompanied by two intricately-inked angel's wings. David Beckham's tattoo is located on the back of his neck, just above the "Romeo" tat Beckham had inked in 2002, and loosely mimics the winged guardian angel inked on Beckham's back. David Beckhams tattoo was inked on the same day the international soccer star announced that he would be staying with Real Madrid, and that his wife and children would be moving to Spain to join him.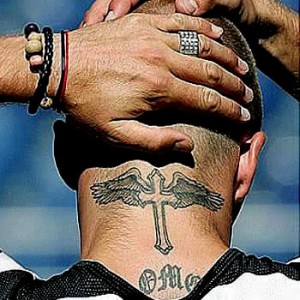 Although Beckham was pleased with the results of his neck tattoo, British fans had mixed reactions. According to some, the winged cross neck tattoo and newly Beckham's shaved head made him look like a "hooligan." When David Beckhan's tattoo graced the cover of The Mirror in 2004, the tabloid said the design, stretching from ear to ear, left the shaven Beckham "looking more like a soccer thug than the England captain," while the top-selling Sun newspaper said Beckham had gone from "fab to yob." Curious about David Beckhams tattoo meaning? According to Malloy, "It's a religious iconography. Like a protective talisman over his children." He continued, "David just loves his tattoos. He's a very good customer."
David's "Dadda" Neck Tattoo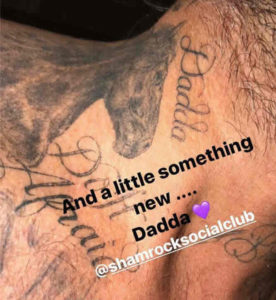 Just above the horse head tattoo he had inked on his neck in 2016, and next to the "Buster" tat he got for Brooklyn, David Beckham has a piece that reads "Dadda" in an elegant script font – a sweet tribute to his kids. David is nothing if not a proud father, and he has dozens of tattoos dedicated to his three sons, Brooklyn, Romeo and Cruz, and his only daughter, Harper, including this "Dadda" neck tat, done in July 2017.
"Buster" Tattoo With Filled-In Heart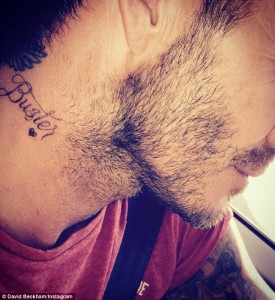 After showing off his "Pretty Lady" tattoo tribute to daughter Harper in July 2015, David Beckham went back under the needle the following month for a matching "Buster" tattoo on the right side of his neck, to commemorate his relationship with his oldest son, Brooklyn. According to David, "Buster" has been his pet nickname for Brooklyn since the day he was born, 16 years ago, and now the soccer icon has a permanent reminder of his love for his son inked on his neck. If you ask us, it's only a matter of time before David Beckham opts for two more matching tattoo tributes to his other sons, Cruz and Romeo!
"Harper" & "Pretty Lady" Tattoo With Heart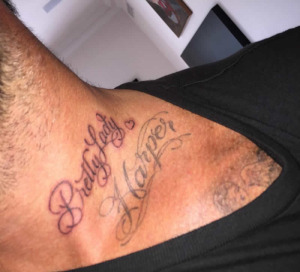 In July 2015, David Beckham visited Mark Mahoney of West Hollywood's Shamrock Social Club and got a brand-new tattoo on his neck reading "Pretty Lady" in a scrolling black script font. David's tattoo includes a tiny little heart, and is located at the base of the left side of his neck, just above the "Harper" tattoo the proud daddy had inked on his chest when his daughter was born in 2011. David Beckham first revealed his "Pretty Lady" neck tattoo on Instagram on July 26, just a couple of weeks after Harper's fourth birthday, and captioned the photo: "Hey Pretty Lady. Just adding to the collection of tattoos that mean so much to me," referring to the dozens of tattoos the soccer icon has gotten as tributes to his loving wife and kids.
Rose Tattoo Above "Pretty Lady" Ink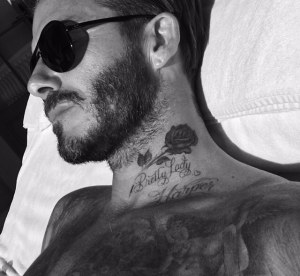 David Beckham apparently felt like he had to up the ante after getting his "Pretty Lady" tattoo tribute to daughter, Harper, because in October 2015, he added a beautiful rose tattoo to his neck, just above his "Pretty Lady" and "Harper" ink. Victoria Beckham debuted David's new tattoo on Instagram on October 23, 2015, and captioned the snap: "Happy Friday x kisses from Los Angeles x." Our guess is that David's rose neck tattoo was inked in Los Angeles, and is meant to commemorate the love he has for his only daughter, Harper.
Horse Head Tattoo on David's Neck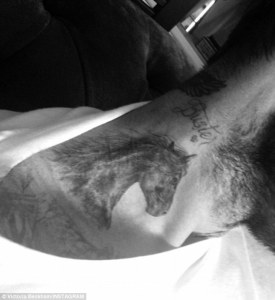 On August 20, 2016, David Beckham went out to a nice dinner with his family and, at the same time, inadvertently revealed a new tattoo on his neck of a horse image, done by Mark Mahoney of the Shamrock Social Club in Hollywood, California. The fresh ink, located on the right side of his neck, just below his "Buster" tattoo tribute to Brooklyn, features a detailed image of a horse head, and is believed to have been done in honor of Victoria, who is obsessed with horses and loves riding them. Knowing how much David cares about Victoria and the rest of his family, it doesn't come as much of a surprise that the model would go under the needle for a horse tattoo in her honor.