When Victoria Beckham first made the transition from Posh Spice to fashion designer, we were all a little skeptical. But since the days of the Spice Girls, Victoria Beckham has acquired international fame yet again as a fashion icon, loving mother of four, and devoted wife of the well-respected soccer star David Beckham. Victoria Beckham's tattoos have also drawn considerable attention from fans and foes alike, especially her neck tattoo that matches one of David Beckham's arm tattoos. Besides its admirable meaning, Victoria Beckham's most famous neck tattoo is appreciated by many for its unique location and stylish design.
Although many female celebrities opt for small neck tattoos, like Megan Fox's strength tattoo, Victoria Beckham went the extra mile to prove her devotion to her husband in a large neck tattoo. Victoria Beckhams tattoo that gets the most attention is the Hebrew phrase the British fashion designer has inked in a tat that runs vertically down her neck and back. You get the best view of Victoria Beckham's neck tattoo when she wears open-backed dresses and sports her signature short locks.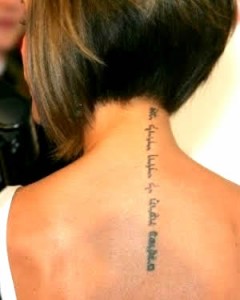 Hewbrew Phrase Tattoo
For their sixth wedding anniversary, David and Victoria Beckham got matching Hewbrew tattoos. While David chose to get his Hebrew tat inked on his arm, Victoria chose to have her unique tattoo inked in a vertical line running from her neck down her back. Victoria Beckham's neck tattoo reads Ani l'dodi li va'ani lo haro'eh bashoshanim, which translates to I am my beloved's and my beloved is mine. The Hebrew phrase that the happy couple chose to get inked on their bodies comes from the Hebrew poem "Shir Ha'shirim," which, in English, means "Song of Songs." Apparently, this verse is commonly recited by brides under the wedding canopy at Jewish weddings as a proclamation of their love for their husbands-to-be.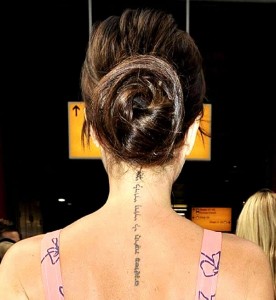 Even though Victoria isn't Jewish, David has strong ties to Judaism and considers himself to be "half-Jewish," so maybe Victoria wanted to proclaim her love to her husband with this fitting Hebrew poem. Believe it or not though, Victoria Beckhams tattoo running down her neck isn't her only Hebrew tattoo. The British couple got another matching Hebrew tattoo on their wrists to celebrate their tenth wedding anniversary. Victoria Beckham's neck tattoo begins just about at her hair line and extends down her spine to the middle of her back, just between her shoulder blades. Victoria Beckham's tattoo on her neck first showed up in pictures on the internet when the fashionista got a drastic hair cut in 2006.