When David Beckham got his first tattoo, his son's name "Brooklyn" on his lower back, fans of the soccer star though it was cute for a father to get a tribute tat to his new baby boy. No one imagined the infamous David Beckham would end up with dozens of tats covering his body over the following years, including two full sleeves, and tattoo designs dotting his back, neck, chest and side. As he says himself, David Beckhams tattoos are a tribute to the important people in his life, which is obvious just by looking at David Beckham's back tattoos alone.
David Beckham has had tats inked on his back for sons Brooklyn, 12, Romeo, eight, and Cruz, six, and one on his chest for his new baby girl, Harper. And it sounds like the couple may not be done yet! When asked about possibly having another child after Harper was born in 2011, Beckham said, "We've always said we'd love a big family and five was the number. If we're lucky enough, then we hope to have one more." Could this mean more back tattoos for David Beckham? We sure hope so!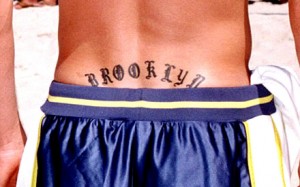 "Brooklyn" Tattoo
With the birth of his first child, which the couple named Brooklyn, David Beckham got a tattoo to commemorate the joyous occasion. David Beckham's "Brooklyn" tattoo was inked in 1999 and is written on his lower back in Gothic script, curving upward from Beckham's left side to right. Apparently Beckham got the idea for the back tattoo from former Spice Girl Mel B.'s then-husband Jimmy Gulzar. In fact, it was Gulzar's Dutch tattoo artist that Beckham visited when he decided to get his Brooklyn back tattoo done.
Since getting Brooklyn inked on his lower back, David Beckham has added the names of his two other sons, Romeo and Cruz, to his back as well. As Beckham said in his autobiography (which was written before Cruz' birth), "I like the feeling that those two boys [Brooklyn and Romeo] are with me even when I'm away from home." He continued, "There's a guardian angel there, too, looking after them both." The inspiration behind David Beckhams tattoos? "My dad had three tattoos of his own and so the idea has been with me since I was a kid…"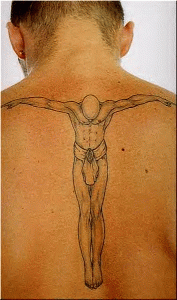 Guardian Angel Tattoo
Once David Beckham got his first tattoo, there was no stopping him. In 2000, Beckham sought out Manchester-based celebrity tattoo artist Louis Malloy to have him design the guardian angel tattoo David Beckham has inked on his upper back. The original tattoo featured a bald figure (much like Beckham's recent bald 'do) with his head bowed and arms outstretched, much like the image of Jesus on the cross. However, Beckham specifically told Malloy that he didn't want the tat to look like the crucifix, more like "a figure diving, representing the idea of a free spirit," which is why he decided to make the figure bald.
David Beckhams back tattoo was created by Malloy in an Art Deco design and initially boasted some impressive angel's wings. Minutes before Malloy started to ink the guardian angel however, Beckham decided the wings made the tat too cluttered and opted for just the foot-long guardian angel with bare, outstretched arms. It wasn't until later that Beckham finally had the large wings added to his back tattoo, which reach from shoulder to shoulder and complete the look of the guardian angel that Beckham was going for. Although David Beckham's back tattoo was inked before he and Victoria had their other two boys, and obviously before Beckham had "Romeo" and "Cruz" inked on his back, David Beckhams tattoo meaning now perfectly symbolizes a guardian angel watching over the three boys.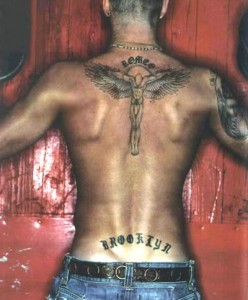 "Romeo" Tattoo
When David Beckham's second son was born in 2002, Beckham had no choice but to match his Brooklyn back tattoo with a "Romeo" back tat for the new baby boy. As Beckham said after Romeo's birth, "I've got my other son on my back, so I had to have this one." When jokingly told that there was still room on his back for more names, Beckham reportedly smiled and said, "Three or four, maybe four, maybe five, but we'll see." Since getting his Romeo back tattoo David Beckham and wife Victoria have had two other children, Cruz and Harper; could there be more children in the future for the Beckhams?
Beckham chose to ink his second son's name on his upper back so it arcs over the guardian angel's bowed head and touches from wing to wing. When Beckham added the Romeo tat on his back, he also added a halo above the guardian angel's head. David Beckhams back tattoo for Romeo is also inked in Gothic script, like his Brooklyn tattoo, and came just before Beckham inked a winged cross on the back of his neck.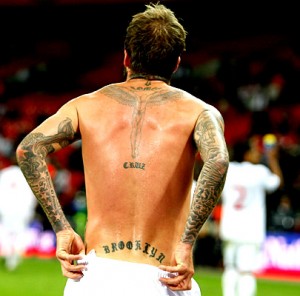 "Cruz" Tattoo
David Beckham added a third name to his back in 2005 when he and Victoria's third son, Cruz, was born. But since David Beckham isn't just a regular old Joe, he didn't simply hit the tattoo parlor and ask for a "Cruz" tat. Instead, Beckham flew his personal tattoo artist Louis Malloy from Manchester to Spain, where the youngest boy was born, so he could have his son's named inked on his back as soon as possible. David Beckhams tattoo in honor of Cruz is inked in the same Gothic script as the other back tattoos, and is located just below the guardian angel's feet in the same arc design. David Beckham's myriad of recent tattoos has sparked rumors that the soccer star may be obsessed with religious images and body art. You think? Even more interesting than Beckham's choice of numerous crosses and guardian angels for body art – the name "Cruz" actually means "cross" in Spanish.