David Beckham has done it again! Best known for his always-expanding collection of ink (and his model body…and his smoking hot wife…and his illustrious soccer career…we could go on), Becks went under the needle at Hollywood's famous Shamrock Social Club this week, adding a new piece to his ankle, of all places. David Beckham's new tattoo is inked on his ankle and partway up his calf, and features an incredibly detailed image of two classical angels, presumably a couple, running, with the male's arm around the female's waist and a piece of material billowing behind them.
Largely influenced by religion and his family, David Beckham often depicts his loved ones as angels in his tattoos, and this new ankle piece is probably no exception. Among his numerous religious-inspired tattoos are a guardian angel inked on his back to watch over his three boys, an image of Jesus on his chest with three cherubs (presumably his sons) lifting him out of a tomb, and another image of Jesus on his right ribcage, which was inked as a tribute to David's grandfather, who died in 2009. The 40-year-old first went under the needle in 1999, following the birth of his oldest son, Brooklyn, and obviously caught the bug, because he now has more than 40 designs scattered all over his body.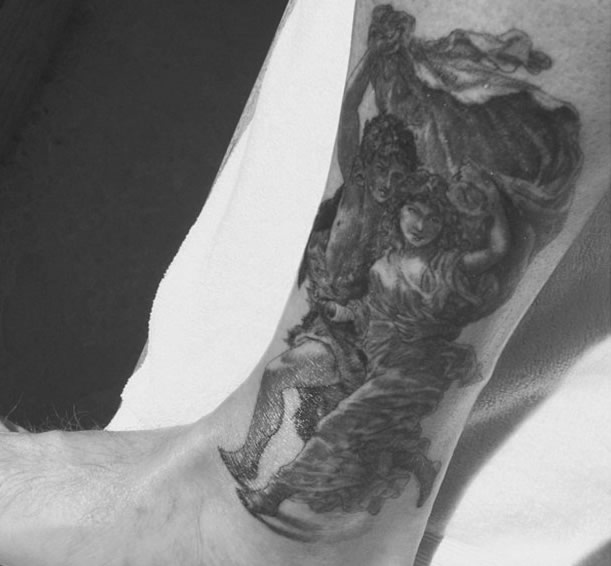 David posted a photo of his new ankle tattoo on Instagram Wednesday, gushing in the caption about the expertise of Shamrock Social Club's owner and head tattoo artist, Mark Mahoney. "Great new piece from Mark Mahoney at shamrock…," the tattoo addict wrote. "Always nice to sit and listen to marks conversation for 5 hours whilst watching him work… True artist." Mark Mahoney isn't just David Beckham's favorite tattoo artist though; he has also inked the likes of Lady Gaga, Rita Ora, Ellie Goulding, Drake and Rihanna.
This angel piece on David's ankle, which is being called a "classical couple tattoo" by several different sources, is most likely a tribute to his enduring relationship with wife Victoria Beckham, to whom he has been married for 17 years. The angelic ankle design marks tattoo number 41 for David Beckham, and, judging by his affinity for new ink, definitely won't be his last!