Brooklyn Beckham has been saying for years that he wants to get tatted up like his father when he's older, but a selfie the 16-year-old recently posted to Instagram – and then quickly deleted – may be proof that the teenager has jumped the gun and gotten inked before the age of 18. Brooklyn is about to turn 17 on March 4 of this year; is it possible that he (and possibly his dear old dad) hit up a tattoo shop to celebrate his upcoming 17th birthday??
Brooklyn Beckham posted the photo of himself on Instagram last week, and the image was taken down within seconds, but not before British newspaper The Sun grabbed a screenshot of the pic. In it, Brooklyn is sporting a pair of glasses, a hoodie and a T-shirt, which he is pulling down the neck of to reveal what appears to be a new tattoo on his chest. From what we can make out in the grainy black and white image, Brooklyn may have gotten a tattoo of an eagle or another bird of prey.
This potential new tattoo for Brooklyn Beckham has some wondering if the eldest son of David and Victoria Beckham is growing up too fast, particularly after the 16-year-old was spotted downing what appeared to be cocktails at two different BRIT Awards after-parties last week. According to a Beckham family insider though, "Brooklyn is not on the party circuit. When Brooklyn goes to events, which is rare, he is accompanied by a minder. He's a good kid and not going wild in London nightclubs."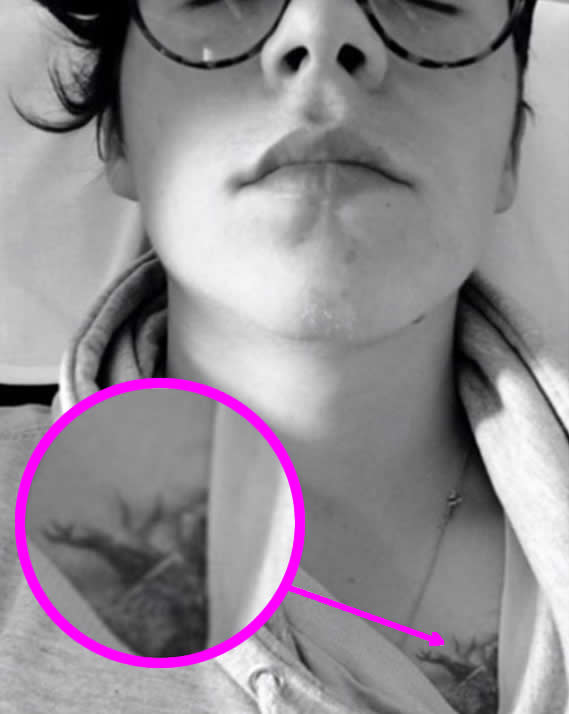 Despite his own ever-growing collection of ink, David Beckham has publicly stated that he doesn't want his children to get inked, and Victoria is currently in the process of removing some of her tattoos in order to be taken more seriously in the fashion world, a world that Brooklyn is also attempting to crack into, as a model and photographer. Back in 2013, David said, "The boys have already said they're having tattoos done. And I said, 'Well, be different. Don't have any tattoos.'"
There's little chance that Brooklyn is going to listen to his dad and stay tattoo-free, and if this Brooklyn Beckham tattoo is the real deal, it could be the first of many for the 16-year-old, who has been known to sport temporary tattoos on his arms, and once revealed that he plans to get a full sleeve when he's older. Stay tuned to find out more about this mysterious Brooklyn Beckham tattoo!