Shortly after cashing in on his tattoo voucher and getting some new ink on his chest, David Beckham finally debuted that "romantic" new tattoo he has been talking about – his wife Victoria's name inked across his right hand. David Beckham's tattoo was spotted while he was attending the Global Fund and British Fashion Council Party as part of London Fashion Week on September 16, and some close-up photos show that the soccer star and loving husband has made good on his promise to get an anniversary tattoo dedicated to his wife of 14 years. Even more romantic, David's new "Victoria" tattoo is inked opposite the elegant "Love" tattoo he had inked on his left hand in 2011.
David Beckham's "Love" & "Victoria" Tats
David Beckham may be best known for his soccer skills and sexy underwear ads, but the 30+ tats he has inked across his body have made him somewhat of a tattoo icon as well. His latest piece features the name of his loving wife "Victoria," written in a scrolling script font across the outside of his right hand, along with a small swallow inked near the base of his thumb. The hand tattoo is nearly identical to the tat the British model sports on his left hand, which has the word "Love" in the same spot, also with a small swallow inked near the base of his thumb. According to David, the meaning of his "Love" tattoo symbolizes the love and loyalty he feels towards his family, so it's only natural that he would devote his other hand to the most important person in his life: Victoria.
David's Tattoos Dedicated to Victoria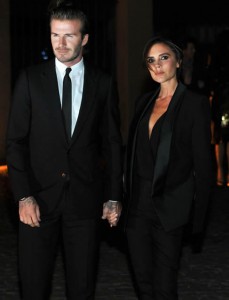 Victoria and David Beckham have had their fair share of problems throughout their 14-year marriage, but the loving and committed couple has pulled through time and time again, and seems stronger now than ever before if David's extensive tattoo collection is any indication. The inked-up superstar has dozens of tattoos scattered across his body, at least six of which are dedicated to Victoria alone, including the ring of roses around his left arm, the sexy portrait of Victoria in lingerie he sports as part of his left sleeve, the Roman numeral anniversary tat he has inked on his right wrist, his Hebrew "I am my beloved's" arm tattoo, the "Victoria" Sanskrit tat on his left arm, and his Latin "So that I love and cherish" arm tat. So what's one more??